Strategy and organisation
With 160 years of history, LLB has a long tradition as the oldest bank in the Principality of Liechtenstein. A clear vision, an ambitious strategy and a values-based corporate culture make it a trusted partner for its clients, investors and employees.
ACT-26 strategy
The ACT-26 strategy is the next logical step in the LLB Group's development. ACT-26 stands for taking action and also for acceleration and transformation (ACcelerate and Transform).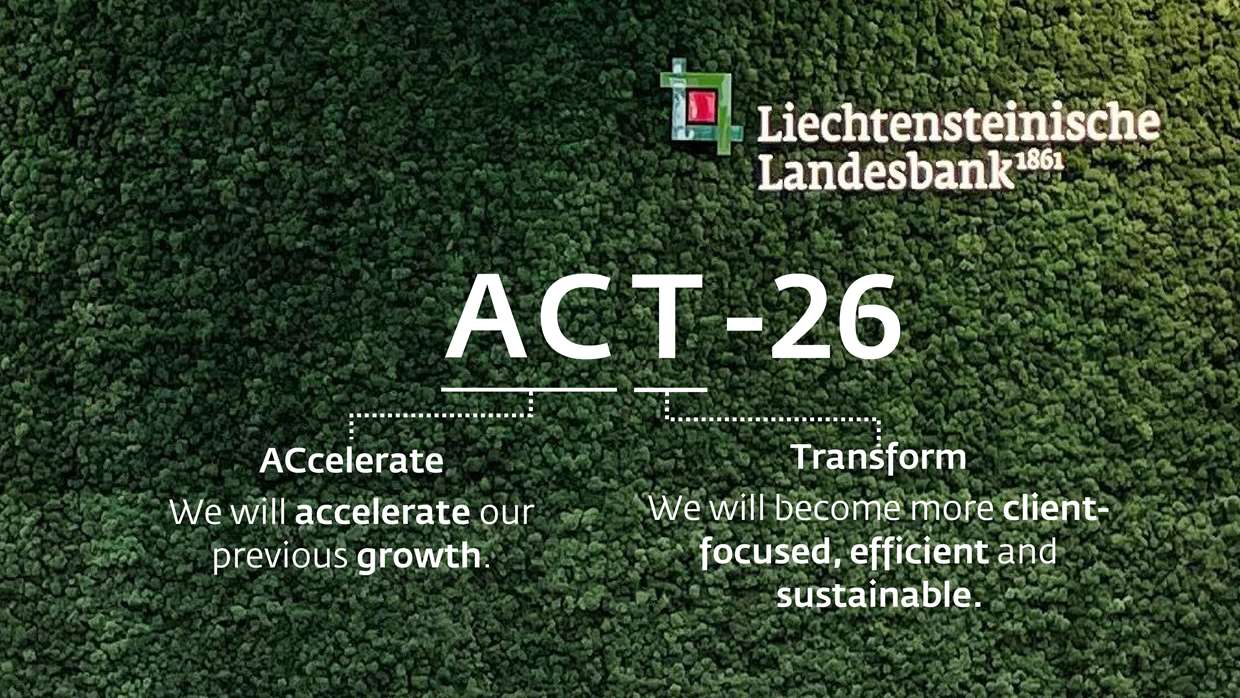 The strategy is based on three core elements:
Growth

:

Over the next five years, the LLB Group is aiming once again to significantly increase its business volume through a combination of accelerated organic growth and targeted acquisitions. The basis for this expansion is the security and stability of the LLB Group combined with award-winning investment expertise and investment performance for private and institutional clients. In retail and corporate banking business, we also want to expand our position in Liechtenstein and Switzerland.
Efficiency: In future, LLB will again place special focus on providing personal advisory services to clients with the aid of a hybrid advisory model, supported by technology. For this purpose, the digital client platform will be modernised and the range of digital products and services will be expanded for all client groups. The LLB Group wants to take an agile approach in order to be able to react to the changing needs of its clients. At the same time, it will also be streamlining, standardising and automating its core processes in order to increase efficiency and make the bank more scalable. The LLB Group will therefore be investing CHF 100 million into its digital transformation in the strategy period.
Sustainability: Sustainability has been an integral part of LLB's DNA for 160 years. In future, the LLB Group wants to play a leading role in this area and is therefore setting ambitious goals for itself. For example, the LLB Group's banking operations were already climate-neutral in 2021– making it the first bank in Liechtenstein and one of the first in Switzerland and Austria to reach this target. Furthermore, the LLB Group has set itself the goal of becoming completely climate-neutral by 2040 – ten years earlier than most competitors – and all of this in line with the UN's ambitious target to limit global warming to 1.5°C. To achieve this goal, the Group aims to significantly reduce the carbon emissions of its banking operations and those of its client portfolios. The bank will forge ahead with the process of making its own bank products sustainable and will continue adding innovative products to its range.
Ambitious growth and financial objectives
In implementing the core elements of the new ACT-26 corporate strategy, the LLB Group is pursuing ambitious goals:
Growth

:

Growth in terms of net new money and net new loans should be more than 3 per cent annually.
Efficiency: In 2026, the Cost Income Ratio should not exceed 65 per cent.
Sustainability: The net carbon emissions of the LLB Group should be reduced to zero by no later than 2040.
In addition to this, we are targeting a tier 1 ratio of over 16 per cent.
Attractive and sustainable dividend policy
The LLB Group is continuing to pursue an attractive and sustainable dividend policy. The distribution ratio amounts to more than 50 per cent of the Group net profit. Furthermore, the LLB Group aims to continually increase the dividend.
Structure and organisation of the LLB Group
The strategic focus of ACT-26 will also be consistently implemented at the organisational level. Clients and technological change are at the heart of this shift.

The LLB Group has a divisional organisational structure. In addition to the two market divisions "Retail and Corporate Banking" and "International Wealth Management", the management structure includes the functions of Group Chief Executive Officer (Group CEO), Group Chief Financial Officer (Group CFO) and Group Chief Digital & Operating Officer (Group CDO).
Dual positioning
The LLB Group intends to achieve its ambitious growth and financial objectives through clear dual positioning in the market: a universal bank with strong local ties on the one hand and a sustainable international private bank on the other.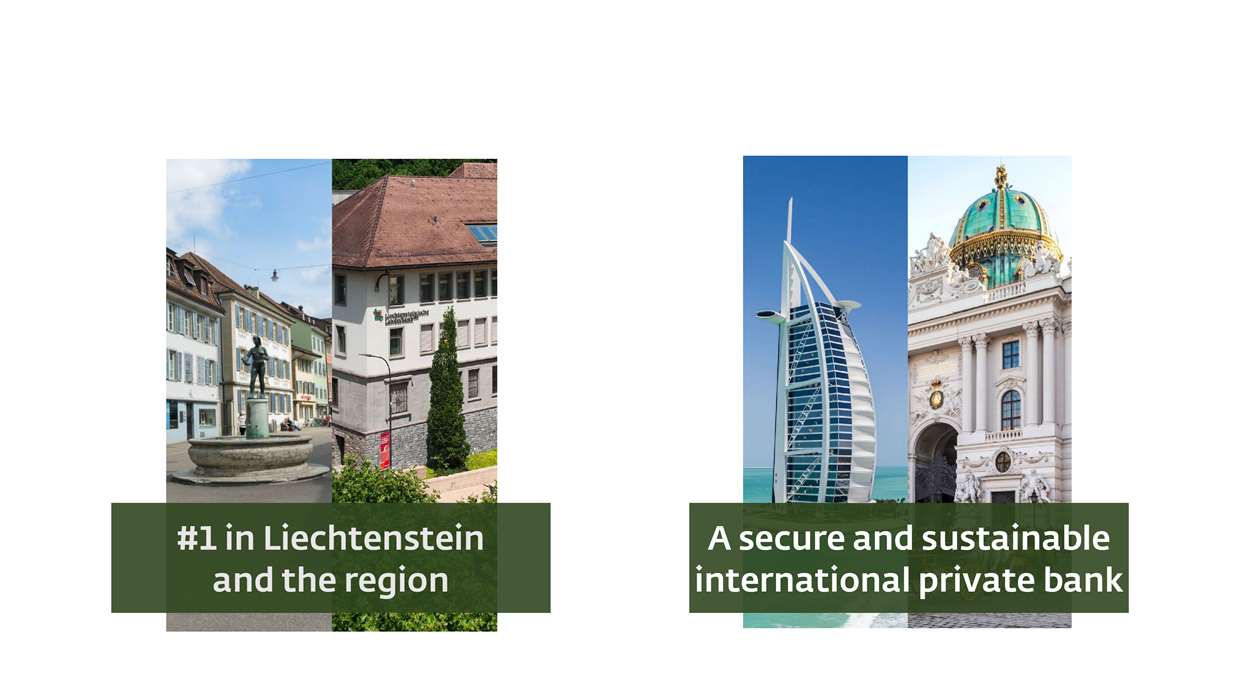 The LLB Group's business model is based on two profitable market divisions:
The "Retail and Corporate Banking" division services locally oriented private banking clients in Liechtenstein, Switzerland and Germany, as well as corporate and private clients in Liechtenstein and Switzerland (see chapter "Retail and Corporate Banking").
The "International Wealth Management" division cares for Austrian and international private banking clients, as well as institutional and investment fund clients (see chapter "International Wealth Management").
We have a presence in the market regions of Liechtenstein, Switzerland and Austria with one bank each: Liechtensteinische Landesbank AG, Bank Linth LLB AG und Liechtensteinische Landesbank (Österreich) AG. The LLB Group also has two competence centres in the areas of asset management and fund services.
With Liechtensteinische Landesbank in Vaduz and Bank Linth in eastern Switzerland, the LLB Group already had two successful regional banks. We want to expand this strong position and establish ourselves as the market leader in Liechtenstein and in eastern Switzerland. In terms of wealth management, the LLB Group wants to expand its position as a leading asset management bank in Austria, a unique fund powerhouse in the German-speaking regions, a reliable partner in institutional business and an international private bank in Central and Eastern Europe and the Middle East.
Corporate culture
Vision and guiding principles
Besides strategy and structure, the culture of a company is one of the most important factors in its success. The LLB Group is committed to a concept of banking with a binding system of values. Our vision is thus encapsulated in the motto:
"We set standards for banking with values."
Our vision of banking is based on the idea of managing material values with a clearly defined system of principles. The LLB Group's corporate culture is based on the following four values:
integrity

 – We create clarity and stand by our word.

respectfulness

 – We believe in partnership and hold both clients and colleagues in high esteem.

excellence

 – We set standards through performance and passion.

pioneering 

– We play an active role in creating a sustainable future.
We implement various measures to ensure that our vision and guiding principles are firmly established in the minds of employees and managers (see chapter "Values and corporate management").