Corporate Center
The Corporate Center steers, controls and combines the central functions within the LLB Group. It coordinates and monitors Group-wide business activities, processes and risks. At the same time, it drives forward the Group's corporate development. The Corporate Center plays a key role in the digital transformation of the Group. By 2026, the LLB Group intends to become more digital, more agile and more scalable.
Service provider and enabler
The Corporate Center contains the Group CEO (see chapter "Strategy and organisation"), Group CFO (see chapter "Finance and risk management") and Group CDO (Chief Digital and Operating Officer). All the organisational units, which coordinate, support and monitor Group-wide business activities, processes and risks are integrated in this segment. These include: Finances, Credit and Risk Management, Operations, IT, Information Security, Digital Transformation, Product Management, Corporate Development, Legal & Compliance, as well as Facility and Procurement Management. Other business areas such as Communications, Marketing, Asset Management and Human Resources (see chapter "Employees") are also integrated in the Corporate Center. It focuses completely on the requirements of the market divisions and thereby makes a direct contribution to the value added by the LLB Group.
The Corporate Center plays a vital role in implementing the ACT-26 corporate strategy. In this connection, expenditure totalling over CHF 250 million is planned up to 2026. In addition to CHF 100 million for the digital transformation, the LLB Group will invest in building infrastructure, hard and software, as well as in strategic projects.
Digital transformation
The Group CDO division is the principal driver of the digital transformation. All the resources for the comprehensive change process are bundled in this division. During the next four years, with its "LLB.ONE" programme, the LLB Group will initiate far reaching changes in refining and developing further digital offers, focusing even more sharply on clients and maximising process efficiency. The Group Digital Transformation Department, which was set up in 2022, is responsible for implementing these changes.
In other areas too, the LLB Group is forging ahead with its transformation to the digital age. This means far more than simply introducing new technology. It requires a continual critical analysis and interpretation of the benefits and effects of digitalisation across and within all corporate levels coupled with a cultural transition.
Shared Service Centers
The LLB Group's digital transformation is also facilitated and supported by its Group shared services. The LLB Group's Shared Service Center can call on an extensive range of professional and process competences. Thanks to the systematic bundling of various operative services and the harmonisation of processes in the individual legal entities and business areas, synergy potentials can be exploited and efficiency stepped up. This applies especially to the maintenance of client master data and to payment transfer processes, as well as to foreign currency and securities transactions.
Digitalisation of banking business
Our clients expect a great deal from the systems and product portfolios provided by banks: very competitive conditions, personalised services, multiple functions and anytime, anywhere access. In recent years, the LLB Group has positioned itself as a modern, innovative, cost-transparent and, at the same time, personal bank. It has expanded its digital services and channels, investing CHF 30 million for this purpose during the last strategy period. Within the scope of the new ACT-26 strategy, a further CHF 100 million will be expended on realising the Group's digital transformation. And, of course, in doing so we shall continue to place our clients' needs and requirements at the forefront of all our activities.
Digital asset management
In 2022, the LLB Group reached a key milestone in its push to become fully digitalised. The launching of the "wiLLBe" app in Liechtenstein and Switzerland at the end of July introduced purely digital asset management for sustainable impact investing. The app was introduced in Germany in September. This innovation enables the active management of individual securities from amounts starting at CHF / EUR 2'000.– . In choosing the investment strategy, in addition to receiving the market opinion and expertise of our award-winning asset management specialists, the client's wishes can also be taken into consideration. Besides the financial key figures, the "wiLLBe" app also provides sustainability data for investments.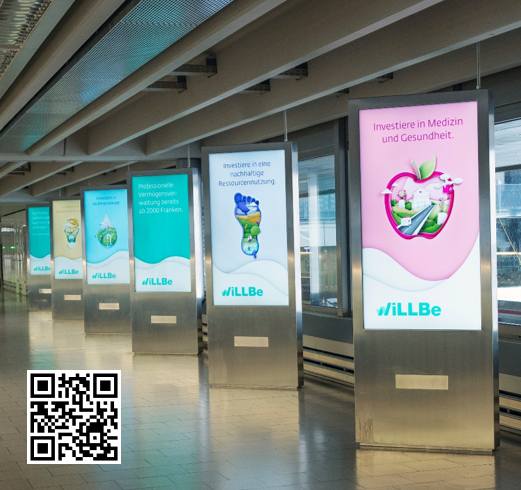 LLB.ONE
By 2026, the LLB Group intends to become more digital, more agile and therefore more scalable. Our "LLB.ONE" programme enables us to focus on increasing client benefits by utilising the latest technology in our interactions with clients. In future, our clients can decide themselves when and through which channels they want to receive the LLB Group's services. In addition, a highly motivated, creative team is engaged in analysing the Group's core processes and simplifying, standardising and automating them from start to finish. We take an agile and flexible approach to this transition so that we can react to changing client requirements by analysing existing procedures and adjusting them where required.
In 2022, we modernised and upgraded the digital client platform and the digital product and service offer, particularly in the areas of financing and client life cycle.
Digital Workplace
At the LLB Group, the digital transformation applies not only to client experiences, processes and products, but also to the employees who supply them. As part of the "team@work" Group project, we are working on the internal renewal of our digital work infrastructure and the optimisation of work processes. In 2022, we continued to make good progress with the development of the digital workplace and the introduction of the functionalities of Microsoft Cloud within the LLB Group. The existing Skype for Business communication system will be replaced by MS Teams throughout the LLB Group. MS Teams has been available to all staff for video conferencing and desktop sharing since the end of 2022. The changeover of all telephones to MS Teams will follow during 2023. In recent years, the LLB Group has also sharply expanded its WFH (working from home) capacity. The current WFH regulations stipulate that employees can spend up to 40 per cent of their working time working from home (see chapter "Employees").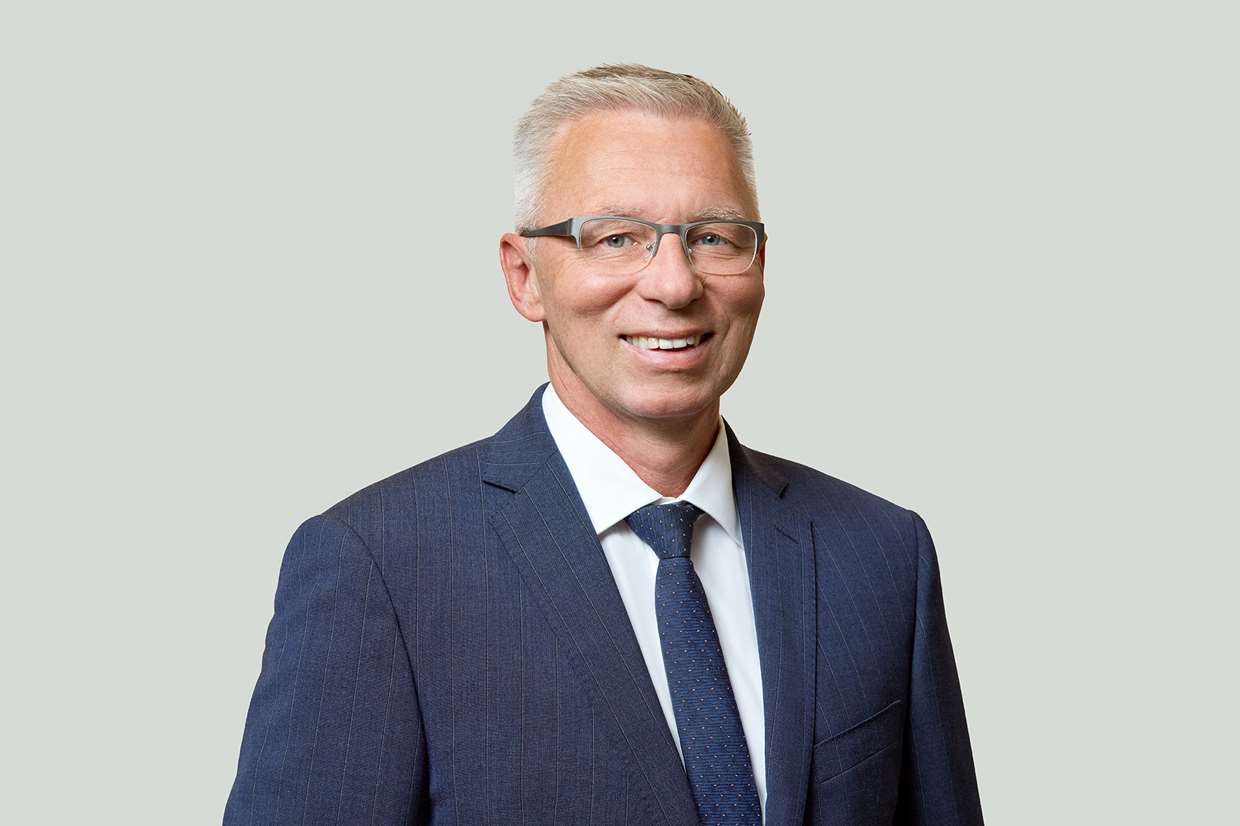 "For us, digital transformation means a lot more than the digitalisation of clients' experiences, of processes and products. We critically analyse and redesign existing structures across and within all corporate levels."
Sustainable investment products
The financial services industry plays an important role in the ongoing transition to a climate-friendly economy. At the LLB Group, Asset Management has attached a high priority to sustainable investing for many years. We offer sustainable asset management services both for individual securities and investment fund portfolios. Since 1 August 2022, the LLB Group's investment advisory and asset management services have been completely aligned with sustainability criteria. Furthermore, we have added two new impact funds (funds which meet the EU's definition of being ecologically sustainable) having their focus on climate protection to our range of products. The goal is to develop investment products and services, which generate returns as well as meeting high ecological, social and ethical criteria. Accordingly they contribute to cushioning the impact of climate change. We underline our efforts to attain greater sustainability through our membership in the UN's most important financial initiatives to protect the climate (see chapter "Responsibilities for the economy, society and environment").
To enable our client advisers to keep pace with these developments, since October 2020 we are offering an extensive range of sustainability training programmes. These include self-training sessions so that new employees can complete the training quickly. We also ensure that our staff stay right up to date with sustainability themes by providing them with specific information briefings such as industry updates or at focus meetings.
Sustainable investment approach
In selecting sustainable investments, we utilise a systematic approach, which combines both negative and positive criteria. We exclude investments in companies, which violate important national or international norms, or with substantial turnover in controversial industries and sectors. We select companies, which predominantly consider or make a contribution to the three ESG themes, i.e. environment, society and corporate governance.
In addition to their extensive experience and expertise, when making investments, our asset managers can call on our own independent investment concept, the "LLB Multi-Factor Model". This provides a broadly based, quantitative analysis of large investment universes and therefore a sound basis for the selection of the most attractive securities. We consistently pursue the goal of creating more added value for clients over the medium to long term.
Our investment products have achieved top positions in industry-wide comparisons and competitions for many years. In 2022, the LLB Group again received several awards. For example, the LLB Strategy Total Return 2.0 fund in the category "Mixed Umbrella Funds Balanced – Conservative" was ranked in second place by the Austrian "GELD-Magazin".
Asset management
Client requirements are always at the forefront at the LLB Group. To enable clients to invest their assets according to their investment horizon and their personal risk tolerance, we offer five different sustainable strategies. These range from "Conservative" to "Equities" in the reference currencies CHF, EUR and USD. In implementing their investment strategy, our clients can now select from five different models. For example, with the "LLB Comfort Offering", depending on the client's wishes, investments can be made in the categories: "ESG sustainable global active", "ESG+ sustainable global active", "ESG sustainable in Switzerland", "ESG sustainable alternative" or "ESG sustainable global passive". In addition, with its total return concept, LLB Österreich offers a mandate focusing on value preservation.
The volume of assets under management at the end of 2022 stood at CHF 9.0 billion (2021: CHF 10.1 billion). The year-on-year decrease was performance-related.
Business segment result
LLB Group reports the structural contribution from interest business, the value of interest rate hedging instruments and income from financial investments under the Corporate Center. In comparison with the previous year, operating income rose by CHF 10.5 million to CHF 74.6 million. Treasury measures, which were implemented due to the increase in US interest rates, led to an expansion of trading activities, partly to the detriment of interest business. In contrast, income from financial investments was lower. Operating expenses climbed by 5.6 per cent to CHF 88.3 million as a result of targeted investments in the ACT-26 strategy.
Segment reporting
| | | | |
| --- | --- | --- | --- |
| in CHF thousands | 2022 | 2021 1 | + / – % |
| Net interest income | – 10'746 | 28'382 |   |
| Expected credit losses | – 17 | 0 |   |
| Net interest income after expected credit losses | – 10'763 | 28'382 |   |
| Net fee and commission income | – 12'350 | – 11'186 | 10.4 |
| Net trading income | 92'994 | 41'590 | 123.6 |
| Net income from financial investments | – 933 | 3'727 |   |
| Other income | 5'650 | 1'557 | 262.9 |
| Total operating income | 74'597 | 64'069 | 16.4 |
| Personnel expenses | – 108'067 | – 102'711 | 5.2 |
| General and administrative expenses | – 80'327 | – 73'361 | 9.5 |
| Depreciation | – 35'632 | – 39'071 | – 8.8 |
| Services (from) / to segments | 135'679 | 131'474 | 3.2 |
| Total operating expenses | – 88'347 | – 83'670 | 5.6 |
| Segment profit before tax | – 13'749 | – 19'601 | – 29.9 |
1 The figures for the financial year 2021 were carried over and adapted to the new segment structure.
Additional information
| | | | |
| --- | --- | --- | --- |
|   | 31.12.2022 | 31.12.2021 1 | + / – % |
| Employees (full-time equivalents, in positions) | 622 | 569 | 9.3 |
1 The figures for the financial year 2021 were carried over and adapted to the new segment structure.