International Wealth Management
At the LLB Group, international wealth management means that, as a secure and sustainable, international private bank, we support wealthy private clients and professional clients in all market situations. We stand for stability and security, superb advisory services and outstanding investment performance.
International private bank
As formulated in the ACT-26 corporate strategy, the LLB Group will utilise its strength as one of the most stable banks in the world to position itself even more clearly as a secure and sustainable, international private bank. We are bundling our competences to facilitate accelerated growth, the highest level of efficiency and a climate-friendly financial services industry in the future. In 2022, we combined the former market divisions "Private Banking" (responsible for international business) and "Institutional Clients" to form the "International Wealth Management" division.
International private banking clients as well as professional investors and financial intermediaries have exacting demands. They expect asset management with proven investment performance on which they can rely, competent, long-term contact partners, as well as professionalism and efficiency in the handling of their financial affairs. For both our wealthy private clients and our institutional clients the stability and security of the LLB Group forms the foundation of a collaboration based on trust.
Building on its new complementary model, the LLB Group is pursuing five major objectives in the field of international wealth management:
Strengthening of intermediary business in Liechtenstein, Switzerland, Austria and Germany;

Expanding of position as leading wealth management bank in Austria;

Further growth as a unique investment fund powerhouse in the German-speaking region;

Continuing major marketing and sales efforts in the private banking growth markets of Central and Eastern Europe, as well as the Middle East;

Consistent, sustainable investments according to ESG guidelines.
Stability and security
As the longest established financial institution in Liechtenstein, LLB has a long tradition as a private bank. Wealthy private clients, companies and financial intermediaries rely on this experience and appreciate the financial strength of the LLB Group. This distinguishing attribute acquired even more importance in 2022 due to the war in the Ukraine, incipient inflation trends and the return to a restrictive monetary policy. Our private and professional clients know that, for years, we have been one of the most secure, best capitalised universal banks in the world.
Since April 2016, and every year since then, Liechtensteinische Landesbank has been assigned a deposits rating of Aa2 by Moody's the rating agency (see chapter "Finance and risk management"). This means that we are regarded as one of the highest-rated banks in the world. We are among the top range of Liechtenstein and Swiss banks, ranking well above the average of European financial institutions. At the same time, with the Principality of Liechtenstein as our majority shareholder, we have a very stable ownership structure. Liechtenstein is one of only a few countries in the world to be awarded an AAA rating by Standard & Poor's and thus the highest financial standing.
International presence – strong local ties
Wealth management clients throughout the world can call on three booking centres at the LLB Group. We are represented with a bank each in the modern, stable financial centres of Liechtenstein, Switzerland and Austria. The LLB Group is internationally active and maintains strong local ties thanks to Liechtensteinische Landesbank and its three bank branches in Liechtenstein, to Bank Linth with its seventeen branches in eastern Switzerland and to Liechtensteinische Landesbank (Österreich) AG with business locations in Vienna and Salzburg. We care for our international clientele from our representative offices in Geneva, Zurich and Abu Dhabi, as well as from our branch in the Dubai International Financial Center (DIFC), Dubai.
The LLB Group attaches great importance to meeting tax compliance requirements and strictly observing prevailing local and international regulations. By providing intensive training and clear instructions to our employees we ensure that they fulfil the regulations of the target countries within the scope of their cross-border activities for the protection of our company and our clients.
Locations of the LLB Group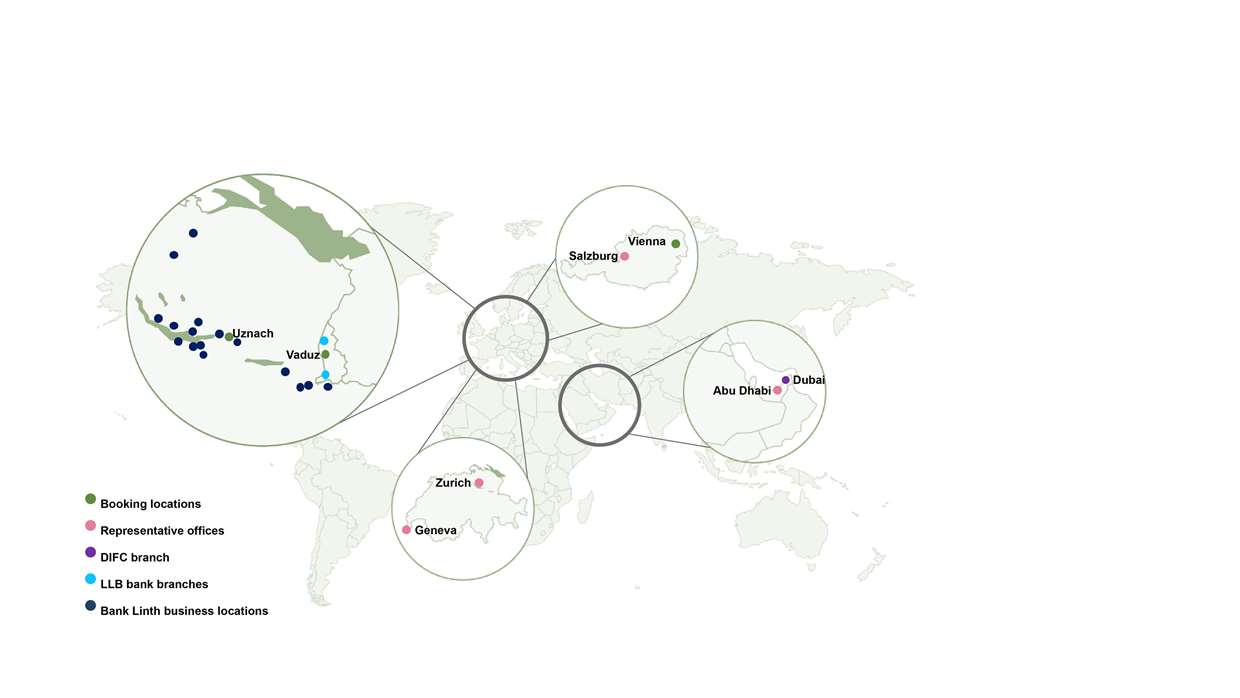 Three successful domestic markets
Our domestic markets, Liechtenstein, Switzerland and Austria, possess great potential to attract private and professional investors, who are seeking security and stability for their investments, as well as efficient, personal advisory services. Liechtenstein is a specialised and, at the same time, an internationally networked financial centre. Thanks to its membership of the EEA and its customs agreement with Switzerland, the LLB Group has unrestricted access from this business location to two economic areas: the EU single market and to Switzerland. These are two of the most important and competitive financial centres in the world. From its business base in the EU member state, Austria, the LLB Group is expanding its position as the leading wealth management bank in the German-speaking region and in the markets of Central and Eastern Europe.
Traditional cross-border markets
For us as a private bank, selected Western European markets traditionally play a key role. We benefit here from our extensive experience as a wealth manager, from our high service quality and from our proven investment performance. Germany, Europe's largest private banking market, in particular, is becoming increasingly important to the LLB Group. The growth that we achieved in this market in 2022 confirms that our clients appreciate our values and services. For this reason, we are intensifying our business activities in Germany from out of our domestic markets in Liechtenstein and Austria.
Private Banking International
We take care of our clients in Central and Eastern Europe (CEE) from our headquarters in Vaduz, from Vienna, and from our representative offices in Geneva and Zurich. Our clients in the United Arab Emirates and the Middle East (ME) are cared for from our branch in the Dubai DIFC (2008) and from our representative office in Abu Dhabi (since 2005). In 2022, the two business areas CEE and ME were organisationally amalgamated into Private Banking International in order to underline the importance of these growth markets and bundle our resources.
Fund powerhouse
As a secure, international private bank, new opportunities are emerging for the LLB Group as a sustainable asset manager and funds powerhouse. In 2022, investment fund business again proved to be a key earnings pillar of the LLB Group with uninterrupted growth potential, reporting another very good business result. The net new money inflow stood at CHF 1.8 billion (2021: CHF 3.1 billion). At the end of 2022, the LLB Group administered a fund volume CHF 38.9 billion (2021: CHF 44.0 billion); the decrease was due to market-related factors. With four investment fund companies in our three domestic markets and over 700 managed funds, we are among the most versatile fund vendors in Europe.
Private label funds
The LLB Group's fund management companies attach great significance to private label fund solutions (known in Austria as "Special funds" or "Master-KAG" solutions). External asset managers and institutional investors frequently utilise private label funds tailored to suit their specific requirements. Family offices and wealthy private clients are also increasingly showing interest in these made-to-measure fund solutions, which are structured according to Liechtenstein, Swiss or EU law, and which enjoy the same investor protection as funds licensed for public distribution. They enable large volumes of assets to be efficiently managed and individually structured.
In its three domestic markets, the LLB Group offers all its products and services according to the "one-stop shop" concept. This creates the maximum degree of flexibility to enable us to fulfil clients' wishes. We plan and set up made-to-measure funds not only for our own corporate Group and private clients, but also for independent asset managers, family offices and other fund promoters. We structure and manage these vehicles and ensure modern, state-of-the-art risk management.
At our business locations in Vaduz and Zurich, we complement our services by acting as a representative for foreign funds. In Liechtenstein and Austria, we take over the function of custodian bank / depositary. In 2022, we intensified our sales and marketing efforts for the fund powerhouse and extended the range of fund services in our home markets. These measures have resulted in stronger growth. At all our fund locations, our modern, standardised investment fund platform forms the basis for further growth.
Liechtenstein and Switzerland
In Liechtenstein, LLB Fund Services AG is one of the leading fund vendors. Based on a holistic and needs-oriented advisory concept, both intermediaries and private clients receive all fund services from one source. Thanks to its unrestricted access to the EU and Switzerland, Liechtenstein offers ideal conditions for cross-border fund distribution.
Since April 2018, the LLB Group has also been represented in the Swiss investment market. Through LLB Swiss Investment AG in Zurich, it offers clients tailor-made fund solutions according to Swiss law. This jurisdiction is ideal for large institutional investors or family office structures in order, for example, to set up funds with investments which are subject to withholding tax (for example, Swiss equities).
In 2022, with its fund business in Liechtenstein and Switzerland, the LLB Group registered an excellent net new money inflow of CHF 1.5 billion (2021: CHF 1.3 billion). On account of market-related factors, the book volume decreased to CHF 22.8 billion (2021: CHF 25.0 billion).
Austria
With its two capital investment companies, LLB Invest KAG and LLB Immo KAG, Liechtensteinische Landesbank (Österreich) AG is one of the leading vendors of investment funds and real estate funds in the Austrian market. In 2022, LLB Invest KAG administered over 300 funds (including public funds, large investor funds, special funds, multi-manager funds and alternative investment funds) and is therefore the top ranked investment company on the Austrian market. Over eighty domestic and international asset managers, banks and family offices trust LLB Invest KAG as a reliable partner.
LLB Immo KAG is the leader in innovation on the Austrian market, especially in relation to products for institutional investors. In the Austrian and German markets, it invests directly in real estate with the goal of generating attractive returns. It pays special attention to sustainability criteria in managing real estate funds. Some of its funds have already been awarded either the Austrian eco-label, the highest sustainability certification for real estate funds in Austria, or an ÖGUT assessment (Austrian Society for Environment and Technology). Real estate funds are regarded as a first-class, long-term diversification possibility for portfolios and as a stable earnings generator.
In 2022, the Institutional Banking Austria business segment posted a net new money inflow of CHF 465 million (2021: CHF 2'428 million). As at 31 December 2022, the business volume stood at CHF 21.9 billion (31.12.2021: CHF 25.9 billion). At the end of 2022, we managed or held in custody a total of 365 investment funds (31.12.2021: 360).
High level of service quality
Wealthy private clients and professional clients attach great value to sound investment expertise, fair and transparent conditions, as well as individual and forward-looking investment solutions. However, they count on us as their bank partner to identify opportunities, open new perspectives and to take advantage of the possibilities that modern technology offers. Moreover, they rely on our networks and our knowledge in the areas of cross-border banking, compliance, risk management and sustainability. Long-term, personal care and advice is part of the LLB Group's identity, international wealth management clients take these qualities for granted.
Innovative wealth management
At the LLB Group, traditional wealth management combines with innovative, modern advisory models. Since 2016, we have been offering "LLB Invest" to our private and institutional clients. This is a transparent, flexible, highly individual investment and wealth management tool. Clients decide themselves what scope of service they wish to receive. This versatile spectrum of services ranges from basis to expert solutions.
Our client advisers work hand in hand with our investment specialists, who have full access to the international financial markets and are supported by the latest technology. Using continual monitoring and optimisation of portfolios, they ensure the security of the investments and a performance in line with the selected strategy. In 2022, the volume of asset management and advisory mandates managed according to the "LLB Invest" model (see chart) contracted to CHF 15.8 billion as a result of market-related factors.
LLB Invest (in CHF billions)
Digital transformation
In 2022, the LLB Group forged ahead with the fundamental digital transformation of all its key business processes across and throughout all client segments and countries (see chapter "Corporate Center"). With the "LLB.ONE" programme it is driving forward with the innovative further development of client interfaces and its core processes. All the banks within the LLB Group use the common Avaloq core banking system, meaning that processes throughout the Group can be better automated.
With our Mobile and Online Banking they can conveniently and digitally transact numerous banking activities at any time and from anywhere. Our investments in digital systems make our private banking services even more efficient and convenient. The use of technology boosts the quality of our personal advisory services to a new level.
Innovative digital solutions are also the key to the close ties we have with professional investors. Thanks to upgraded digital channels, contacts with them are now more flexible, more individual and more convenient. We are constantly expanding our offering of digital services for the collaboration with intermediaries and independent asset managers. For example, we have upgraded our "LLB FIX-Interface" and our "LLB Xpert Solutions" product ranges, thus reacting at an early stage to the changing requirements of our clients. Using the "LLB FIX-Interface", external asset managers can boost their efficiency in interacting with us, thus enabling them to gain more productive and profitable time with their clients.
Group Business Compliance
The increasing density of regulatory requirements confronts financial intermediaries with growing challenges in relation to organisation, compliance, risk management and internal control systems. The LLB Group is therefore consistently enlarging the Group Business Compliance Department, which acts as a hub between clients, client advisors and compliance specialists. Our professional clients appreciate the support we provide them with from start to finish when opening complicated account relationships and in complex business cases. This enhances the collaboration and conforms more precisely with "know-your-customer" requirements, preventing duplication of work, thus saving valuable resources and making both our clients and ourselves more effective. Our client advisors from the "Retail and Corporate Banking" division call more and more often on the support of the internal Group Business Compliance Department because private individuals and corporate clients are also affected by regulatory provisions.
Fair and transparent pricing models
We believe in successful, partner-like collaboration as the key to long-term client relationships. This includes fair and transparent pricing models with numerous options. The tariff structures of Liechtensteinische Landesbank are simple and clear, costs are visible at a glance (see chapter "Sustainability in banking"). LLB and LLB Bank Linth forego retrocessions both in the provision of investment advisory and asset management services, i.e. we do not accept commissions from external fund vendors for the distribution of their products. We pass on 100 per cent of these payments to our clients. We employ performance-related fees with various asset management and investment advisory mandates, which are only payable if a positive return is achieved. Even when structuring pricing models, we think first of the requirements of our clients.
Networking and transfer of knowledge
We provide wealthy clients with access to the expertise of our investment specialists and to the universe of our investment solutions. In addition, we support professional investors through networking and a transfer of knowledge. For them it is extremely important to have unrestricted access to the capital markets and to be able to continually update their current level of knowledge. For many years therefore the LLB Group made available its "LLB Xpert Views" online platform to financial intermediaries to enable them to have a transparent and concise overview of current market developments.
"We are one of the most stable banks in the world. As a secure and sustainable, international private bank, we fulfil the high demands of private banking clients and professional investors – and also give impetus for a sustainable world."
This online platform is a central point of contact for insurance companies, family offices, pension funds, independent asset managers, investment fund managers and fund promoters. This enables us to make available exclusively to our stakeholders the expertise of our specialists in asset management. At the same time, we can brief our professional clients about the latest regulatory provisions. The personal exchange of views and experience is also very important to us. We ensure this takes place several times a year in the form of exclusive round-table discussions.
Memberships
The LLB Group is closely networked with various associations and bodies and therefore always aware of which themes and issues will be significant in the future. Furthermore, these memberships offer us the possibility of actively participating in shaping the framework conditions, which determine our business model:
LLB Fund Services AG is a member of the executive board, and provides the vice chair, of the

Liechtenstein Investment Fund Association

. It actively promotes the attractiveness and competitiveness of the Liechtenstein fund centre.
LLB Österreich is a member of the executive board of the

Association of Austrian Banks and Bankers

, an independent dialogue partner having contacts with national and international associations and institutions.
The LLB Invest KAG and die LLB Immo KAG are represented on the executive board of the

Association of Austrian Investment Companies

, the umbrella association of Austrian administration companies and all Austrian real estate capital investment companies.
The LLB Immo KAG is also a member and currently chair of the

Austrian Society for Sustainable Real Estate Business

and the

Association of Institutional Real Estate Investment Companies

.
In Zurich, LLB Swiss Investment AG is a member of the

Asset Management Association of Switzerland

. The goal of this organisation is to promote Switzerland as a leading asset management centre with high standards of quality, performance and sustainability.
Business segment result
The segment result before taxes of the International Wealth Management division totalled CHF 98.5 million. In comparison with the previous year, this represents an increase of almost 19 per cent. Operating income rose by CHF 25.2 million to CHF 213.8 million. A marked improvement was achieved in interest differential business with income more than doubling to CHF 51.2 million. This was largely attributable to the raising of interest rates. In the previous year, the segment benefitted from performance fees from fee and commission business as well as larger volumes of client assets. Operating expenses climbed to CHF 115.3 million. General and administrative expenses increased primarily due to the allocation of provisions for legal and litigation risks.
Net new money inflows of CHF 2.5 billion confirm the positive growth trend of recent years. Especially in investment fund business, the segment achieved gratifying inflows. On account of market-related corrections, the business volume decreased by 10.6 per cent to CHF 65.2 billion.
Segment reporting: International Wealth Management
(in CHF millions)
Segment reporting
| | | | |
| --- | --- | --- | --- |
| in CHF thousands | 2022 | 2021 1 | + / – % |
| Net interest income | 51'173 | 22'096 | 131.6 |
| Expected credit losses | 1'994 | – 3'052 |   |
| Net interest income after expected credit losses | 53'167 | 19'044 | 179.2 |
| Net fee and commission income | 138'287 | 149'728 | – 7.6 |
| Net trading income | 22'350 | 19'832 | 12.7 |
| Other income | 4 | 2 | 116.6 |
| Total operating income | 213'808 | 188'606 | 13.4 |
| Personnel expenses | – 44'107 | – 44'065 | 0.1 |
| General and administrative expenses | – 11'274 | – 6'047 | 86.4 |
| Depreciation | – 391 | – 444 | – 11.9 |
| Services (from) / to segments | – 59'549 | – 54'976 | 8.3 |
| Total operating expenses | – 115'321 | – 105'531 | 9.3 |
| Segment profit before tax | 98'487 | 83'074 | 18.6 |
1 The figures for the financial year 2021 were carried over and adapted to the new segment structure.
Performance figures
| | | |
| --- | --- | --- |
|   | 2022 | 2021 1 |
| Gross margin (in basis points) 2 | 31.2 | 28.0 |
| Cost Income Ratio (in per cent) 2 | 52.0 | 54.8 |
| Net new money (in CHF millions) 2 | 2'463 | 6'721 |
| Growth of net new money (in per cent) 2 | 3.4 | 11.2 |
1 The figures for the financial year 2021 were carried over and adapted to the new segment structure.
2 Definition available under www.llb.li/investors-apm
Additional information
| | | | |
| --- | --- | --- | --- |
|   | 31.12.2022 | 31.12.2021 1 | + / – % |
| Business volume (in CHF millions) 2 | 65'194 | 72'904 | – 10.6 |
| Assets under management (in CHF millions) 2 | 64'214 | 71'760 | – 10.5 |
| Loans (in CHF millions) | 980 | 1'144 | – 14.3 |
| Employees (full-time equivalents, in positions) | 246 | 236 | 4.2 |
1 The figures for the financial year 2021 were carried over and adapted to the new segment structure.
2 Definition available under www.llb.li/investors-apm