Letter to shareholders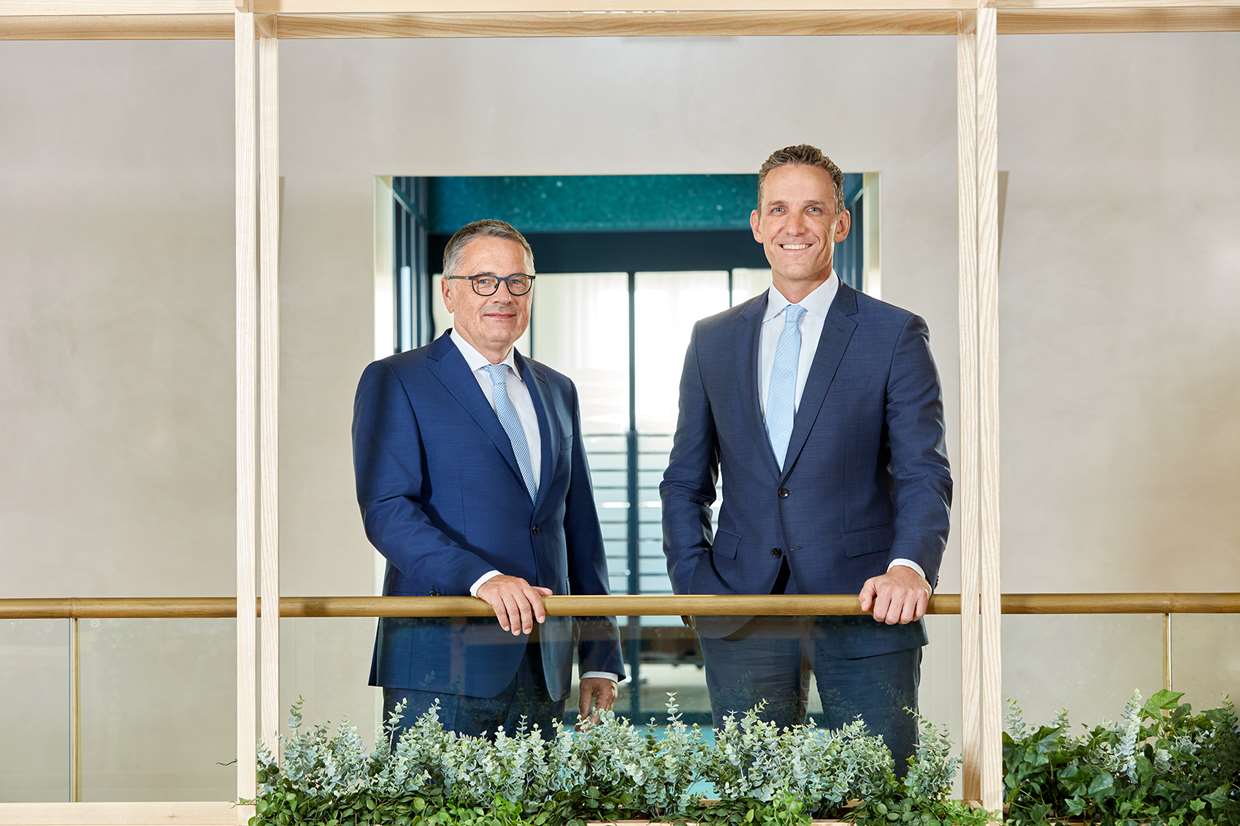 Dear shareholders
2022 was a good, but very challenging year for the LLB Group. The corona pandemic, Russia's war against Ukraine, the critical energy situation, inflation, the return to a restrictive monetary policy and the stalling of the trend towards globalisation – all had repercussions. In this challenging environment, we have to manage the transformation to a sustainable, climate-friendly and digital business world. Nonetheless, the LLB Group is prepared for the challenges and stands firmly at the side of its clients, providing them with the highest level of stability and security. We are also inspired by our success in implementing our new ACT-26 corporate strategy.
Pleasing growth
The 2022 business result testifies anew to the LLB Group's success in growing sustainably and profitably while relying on its own resources. The pleasing development of recent years continued with both net new money inflows and loans to clients. Net new money inflow stood at CHF 3.6 billion, a rise of 3.9 per cent. Our growth is broadly supported: the LLB Group posted inflows in both its market divisions, "Retail and Corporate Banking" and "International Wealth Management", as well as in all three booking centres. Net new loans increased by CHF 0.8 billion or 5.5 per cent. Loans to clients rose to CHF 14.4 billion.
The LLB Group was not immune to the negative market sentiment during the year. As a result of corrections on the financial markets, client assets under management decreased by 8.7 per cent to CHF 83.9 billion. Robust organic growth ensured that the market-related contraction in business volume of 6.9 per cent was cushioned. It stood at CHF 98.4 billion (31.12.2021: CHF 105.7 billion).
The increase to CHF 149.4 million meant that we achieved the highest Group net profit since 2009, thereby surpassing the previous year's very good result by 8.4 per cent. This reflects the dynamic growth, the improved quality of earnings and the strict cost management of the LLB Group. The Cost Income Ratio was further reduced by 1.8 percentage points to 64.0 per cent. With a tier 1 ratio of 19.7 per cent and a Moody's rating of Aa2, the LLB Group stands for stability and security, especially in these turbulent times.
ACT-26 progressing as planned
In our endeavours to realise our full potential, we are consistently pursuing our ACT-26 strategy. Until 2026, we shall focus fully on three core elements: growth, efficiency and sustainability. We want to speed up (ACcelerate) our previous rate of growth by utilising the latest technologies while becoming even more client focused, efficient and sustainable (Transform). In 2022, all aspects of the strategy implementation progressed as planned.
Clear, dual positioning
In 2022, we adopted a dual positioning in our operations on the market. As a universal bank, the LLB Group is the leader in Liechtenstein and the adjacent region while, at the same time, excelling as a secure, sustainable, international private bank. We attach great importance to a lean organisational structure and concentrate on supporting two equal market divisions: "Retail and Corporate Banking" and "International Wealth Management". With this clear positioning and sharp business focus, we aim at improving efficiency and shortening decision-making processes, which benefit both our clients and our growth.
Delisting of Bank Linth
Targeted acquisitions complement our organic growth. We also achieved an important success in this area in 2022. On 27 January 2022, Liechtensteinische Landesbank AG (LLB) announced a public purchase offer for all publicly held Bank Linth shares. The LLB's goal was to increase its 74.9 per cent stake in Bank Linth, which it had held since 2007, to 100 per cent. In a parallel step, LLB and Bank Linth announced their joint intention of delisting the shares of Bank Linth from the SIX Swiss Exchange. The public purchase offer was well received thus enabling LLB to increase its stake, following the completion of the corresponding legal procedure, to 100 per cent. Bank Linth was delisted from the SIX Swiss Exchange on 28 December 2022.
Many Bank Linth shareholders decided to take advantage of the partial exchange offer and are now LLB shareholders. We regard this as a testimony to the high degree of trust in the stability and security of the LLB Group. It confirms our belief in placing the strategic focus of Bank Linth on being a successful retail bank. The expansion of the shareholder base changes nothing for the existing LLB shareholders. LLB had acquired the additionally required LLB shares from its majority shareholder, the Principality of Liechtenstein. Its share participation in LLB decreased from 57.5 to 56.3 per cent.
Digital transformation
With the "LLB.ONE" programme, we are forging ahead with the digital transformation of the LLB Group. The programme will enable us to further develop client interfaces in line with their requirements, make internal processes faster and simpler, and make the whole LLB Group more scalable and therefore more efficient. A new technology-driven, hybrid advisory model will enable us to continue placing a special focus on the personal care of our clients. For this purpose, in 2022, we modernised the digital client platform and expanded our digital product and service offer. A highly motivated team has been set up to simplify, standardise and automate internal core processes. We intend to invest CHF 100 million in the digital transformation by 2026.
Transparent carbon footprint
As an official partner of the Climate Pledge, we have committed ourselves to achieve complete climate neutrality ten years earlier than specified in the Paris climate agreement. By 2040, the LLB Group intends to reduce emissions, both in banking operations and with its products, to net zero. In 2022, we made a great stride towards achieving this goal.
Since 1 August 2022, the investment advisory and asset management of the LLB Group have been aligned completely with sustainability criteria. New investment funds with a focus squarely on climate protection – so-called Impact Funds – have been added to complement our broad product range.
During the second half of 2022, we launched our "wiLLBe" app, the first digital asset management app for sustainable impact investments, in Liechtenstein, Switzerland and Germany. In addition to financial key figures, "wiLLBe" provides sustainability data for the individual portfolio such as global temperature increases, CO2-emissions and energy consumption.
For the first time in October 2022, we published a TCFD report, which provides the largest possible transparency into how the LLB Group achieves CO2 neutrality. Within the context of this report, which is based on the internationally accepted standards of the "Task Force on Climate-related Financial Disclosures", LLB completely discloses the extent of its current carbon footprint.
Modern bank branches
One dynamic element of the LLB Group's ACT-26 strategy is that positive steps mutually reinforce each other. This also applies to our modern bank branch concept, which differentiates us from our competitors. Close attention was paid to genuine client requirements in the redesigning of the network of Bank Linth branches and the three LLB bank branches in Liechtenstein. Since the reopening of the LLB headquarters branch in May 2022, we have been able to observe how positively people react to this attractive point of contact in Vaduz. Thanks to the seamless interaction between digital channels and personal advisory services, we are able to appeal to each individual bank visitor.
Elections to the Board of Directors
The success of the LLB Group depends on the people who bear responsibility for it. On 5 May 2023, the terms of office of Vice Chair of the Board of Directors, Prof. Dr. Gabriela Nagel-Jungo, and of the Board member, Urs Leinhäuser, come to an end due to the term of office limitation legally stipulated in the Landesbank Law. Both persons have made a significant contribution to the successful development of the LLB Group since 2014. They always provided our company with unwavering support, great enthusiasm and sound judgement.
At the 31th General Meeting of Shareholders, the Board of Directors will propose that Dr. Nicole Brunhart and Dr. Christian Wiesendanger be elected as new members for a term of office of three years. Dr. Nicole Brunhart works as the Head of Transformation on the executive board of a leading European investment fund distribution platform in Zurich. She possesses many years of experience in strategy consulting and asset management, as well as acknowledged expertise in sustainability issues. Furthermore, she maintains a broad network of contacts in the financial services industry in Switzerland and the rest of Europe. Dr. Christian Wiesendanger has many years of global experience in wealth management and is known as one of the best experts in Swiss wealth management business. He possesses a rich knowledge of the banking industry.
Attractive dividend policy
In acknowledgement of their trust in us, we ensure that our shareholders participate in our business success. We have pursued a long-term, attractive dividend policy for many years. The Board of Directors proposes to the General Meeting of Shareholders on 5 May 2023 that the dividend be increased from CHF 2.30 to CHF 2.50. Based on the closing price of the LLB share on 31 December 2022, this corresponds to a dividend yield of 4.5 per cent.
Outlook
An exceptional degree of uncertainty continues to cloud economic and business prospects. Russia's war against Ukraine continues unabated with the threat of further economic disruptions. Persisting high inflation and uncoordinated adjustments by the global financial markets to cope with the new interest rate environment represent important risk factors. Thanks to an effective mix of cost discipline, targeted investments in digitalisation and a rigorous implementation of the ACT-26 strategy, we are confident of remaining on a robust and sustainable path to growth in 2023.
A note of thanks
We want to thank our clients for their loyalty and trust in the LLB Group. A sincere note of thanks goes to our staff for their hard work and great dedication every day. And, of course, you our esteemed shareholders, for supporting us in shaping a successful future. We have set ourselves ambitious goals, and we know how we can achieve them.
Yours sincerely

Gabriel Brenna

Group CEO

Georg Wohlwend

Chairman of the Board of Directors